Just because your health needs may change, it doesn't mean your life has to change. At The Delaney at Georgetown, we provide assisted living in Georgetown, TX that gives you just the help you need so you can do what you want, when you want. We'll assist with the basic activities of daily living, like bathing, dressing and grooming, medication management, and personal maintenance ... so you can be you.
Services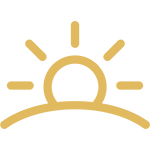 Health and Wellness Navigation
The Delaney is committed to offering a holistic approach to your total health and well-being.
That's why we provide a highly trained senior Health and Wellness Navigation team, who work personally with you to anticipate your health and wellness needs and address them. They'll guide you through the many programs, services, and amenities we offer that focus on all 8 Dimensions of Wellness to ensure your overall physical, psychological and social well-being. Our Navigation team will also help guide you through any medical challenges that may lie ahead, offering assistance with:
Preparation and follow-up for outpatient or hospital care
Coordination of appointments and arrangement of transportation
Coordination of post-acute care or in-residence wellness checks and the delivery of specific nutritional meals
Transitioning you to higher levels of care whenever you may need it

Personal Services
At The Delaney, we know that the way we provide our services to you is just as important as the services themselves.

That's why, here, everything starts with Extraordinary Impressions®—our culture of gracious hospitality and service—which ensures that each interaction with you and your family is meaningful and memorable. Below are just some of the personal services we provide:
Assistance with daily living activities, such as bathing, dressing and grooming, and medication management
Nurse onsite 24 hours a day to ensure your health and safety needs are always met
Convenient transportation to a wide variety of scheduled events and outings as well as to medical appointments
Emergency response system, providing personal safety and offering peace of mind
Pet-friendly campus
Cleaning service and flat linen service every week

Residential Services
When you choose assisted living at The Delaney, you'll enjoy the freedom and flexibility to do what you want, when you want, with a helping hand anytime you need it.

These are just some of the residential services we take care of, so you don't have to:
Prompt and complete maintenance of residences, appliances, and gathering spaces
Meticulous lawn care and grounds maintenance to ensure that the assisted living facilities of The Delaney always look beautiful and inviting year-round, both for you and for your visitors
Security personnel onsite, 24/7
Amenities
Restaurant-style, chef-prepared dining in a beautiful dining room overlooking 100-year-old oaks, with a delightful menu ranging from gourmet cuisine to bistro fare
On-campus, full service, hair salon and spa to keep you looking and feeling your very best
Community great room with a comfy fireplace and big-screen TV that make this the perfect place for socializing and relaxation
Wellness programs to help you live your best life
The Great Hall, a perfect place to meet friends for memorable get-togethers
Dining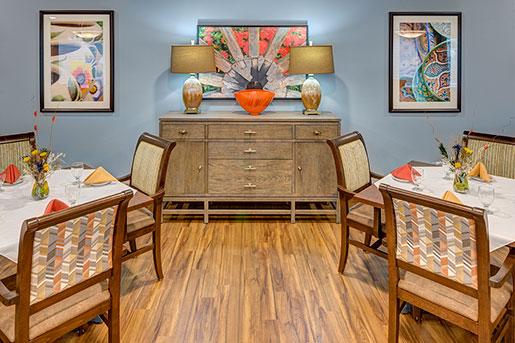 A delightful, full service, restaurant-style experience every day. A delicious, healthy variety of fresh, chef- prepared dishes from an eclectic menu that ranges from gourmet cuisine to bistro favorites. A warm and cozy dining room. Also, a family-style kitchen, where you can share breakfast every morning. That's dining at The Delaney, and it doesn't get any better than that!
Activities
Stay fit
Keep your body moving in our fun exercise classes and stay in shape by using our fully equipped fitness studio.
Stay Connected
Enjoy our full calendar of social, educational and recreational activities, both on our campus and in the greater Austin area.
Our Embrace the World program brings you the adventure of world travel through being able to enjoy hands-on experiences of the culture, foods, and entertainment of a different country each month.
Stay Inspired
Indulge in your favorite pastimes and learn new skills in our arts and crafts studio.
Stay Social
Meet friends for snacks in our family-style kitchen. Cozy up in front of the fireplace in our community great room for conversation, laughs, and for viewing your favorite programs on the big-screen TV.
Floor Plans & Pricing
Your beautiful assisted living apartment home has everything you want, with contemporary layouts designed with you in mind. Each one has a bright, sunny interior and smartly equipped kitchenette. Utilities? Most are included, and further, every residence has an emergency response system for your peace of mind.
Oh, and of course, pets are always welcome too!
View our pricing and take a look at our comfortable, spacious alcove, one-bedroom, and two-bedroom floor plans to see which one is right for you.
View Our Floor Plans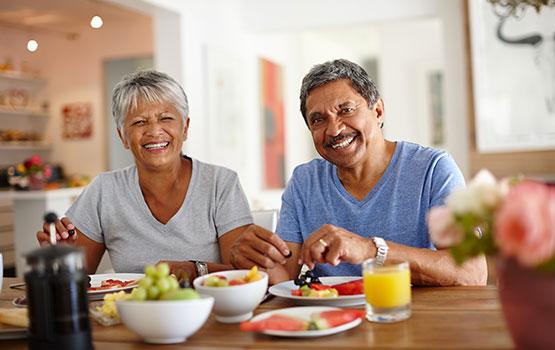 Meet The Team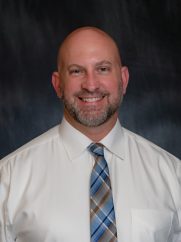 Sam Richardson
Executive Director, CDAL
Sam has over 20 years of management experience, specializing in the delivery of outstanding customer service in operations management of senior living communities, including assisted living and memory care. He is responsible for day-to-day operations at The Delaney at Georgetown Village.
Sam has also earned the prestigious Certified Director of Assisted Living (CDAL) credential from the Senior Living Certification Commission (SLCC).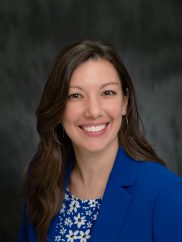 Amanda Herndon
Memory Care Director
Amanda joined the team supporting our Memory Care residents in 2018. Her creation of the Team Blue Crafts store, Cluckingham Palace hen therapy program, and local community service involvement has given residents unique opportunities to stay engaged with purpose and meaning.
Her desire to help others is demonstrated by her education and experience. She has a Bachelor of Science in Business Administration with a Hospitality Services emphasis. Her early career was in sales, marketing, and training development. Amanda is a Certified Dementia Practitioner, Activity Director, and Yoga Instructor.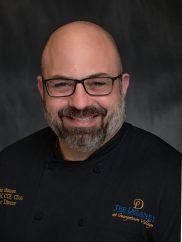 John Maroon
Director of Culinary Services
John is privileged to be celebrating over 30 years of success in hospitality leadership. Born and raised in Northeastern Pennsylvania, John earned his Associate's and Bachelor's Degrees from the prestigious Culinary Institute of American in Hyde Park, NY. John then spent ten years in the San Francisco Bay Area where he balanced his culinary proficiencies
with dining room hospitality, sommelier, and operations leadership development. He eventually became an owner/operator of two successful restaurants in the Bay Area and also served as General Manager of the landmark House of Prime Rib in San Francisco for five years.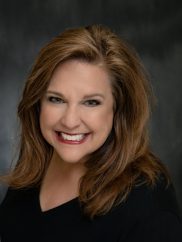 Margo Hays
Residency Counselor
Margo is passionate about senior rights and care. She has worked for the safety of seniors for the past 10 years. Her experience spans both sides of the aisle, from caretaker for her mother, who she lost to Alzheimers, to senior advocate in the health care field. She has a deep background in consulting with seniors and their family to match them with
the best living options to meet their needs. Margo's proven track record in building successful relationships across the continuum of independent living, memory care, and home health care affords a breadth and depth of insight that assures her clients receive the best help available to navigate the care process for their loved ones.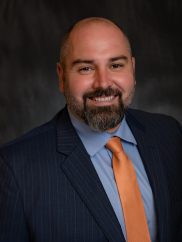 Brad Dinsmore
Director of Health Services
Brad Dinsmore is an RN with a Master's Degree in Healthcare Administration with over 10 years' experience in nursing and hospital management, most recently in the Inpatient Rehabilitation field. Originally from Texarkana, Brad lives in Austin with his wife and two children.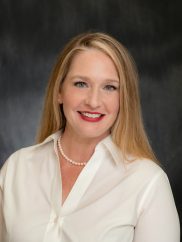 Melonie Martinez
Director of Life Enrichment
Melonie has over a decade of experience working as an Activity Director in a senior living community setting and in all levels of independent living to hospice care. She is a member of the National Association of Activity Professionals and is a Certified Activity Director in the state of Texas. Melonie and her team
will strive to ensure residents have opportunities to be involved in activities focused on spiritual, social, environmental, physical, emotional, vocational and intellectual needs in order to maintain joy and purpose in their lives.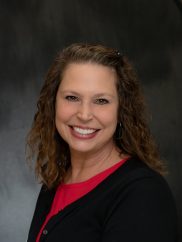 Mindy House
Business Office Manager
Mindy has worked with seniors from a very young age. She started volunteering in elementary school by helping with chores and grocery shopping. She helped care for her grandmother for 3 years while she fought cancer. As an adult, she was a hospice volunteer for 5 years and was awarded the President's Call to Service Award in 2008.
It is given by the President of the United States to people who have completed more than 4000 hours of community service. Mindy also has over 6 years of experience working in senior living communities, starting as a medication aide and working up to business office manager.
FAQs
What is the difference between assisted living and a nursing home?
Assisted living gives you the helping hand you need to keep active, stay engaged and pursue your passions. You'll live in a beautifully appointed apartment home and receive assistance with the basic activities of daily living, tailored to your specific needs, such as help with bathing, dressing and grooming, medication management and personal maintenance. Nursing homes, on the other hand, are for those with chronic medical conditions or disabilities, or those in chronic pain, who require round-the-clock care and supervision by licensed skilled nursing professionals.
How do families typically pay for assisted living?
There are a variety of options families use in order to help pay for assisted living. Below are a few that you may want to consider:
Long term care insurance
Life insurance
Veteran's benefits
Sale of a home
Reverse mortgage
Bridge loan
Annuity
We suggest you consult with a financial advisor to discuss which would work best for your family.
What should I look for when choosing a senior living community?
There are quite a few things to consider when choosing a senior living community. That's why we've created an evaluation guide and checklist to help you as you start your process and begin touring various communities. We think you'll find it incredibly helpful. You can download the guide below.
Do you allow pets?
Yes! The Delaney is a pet friendly community. We know that "you just wouldn't be you" without your beloved pets. They're like members of your family, and here, family is always welcome!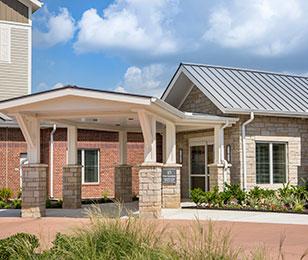 Come by for a visit so you can see for yourself why The Delaney at Georgetown Village is the perfect place for you to live
the life you want to live!